0
Fenix E01 Review
Hey there, everyone. I discovered this forum from the OSA forum at someone's direction. I think I'll like it here

Anyway, I recently started a light, gun, and knife review blog (more for my own satisfaction than anything else). But since this forum has a gear review section, I'll gladly contribute.

Coming from the time when one AAA getting you around two lumens for around two hours, this light is incredible.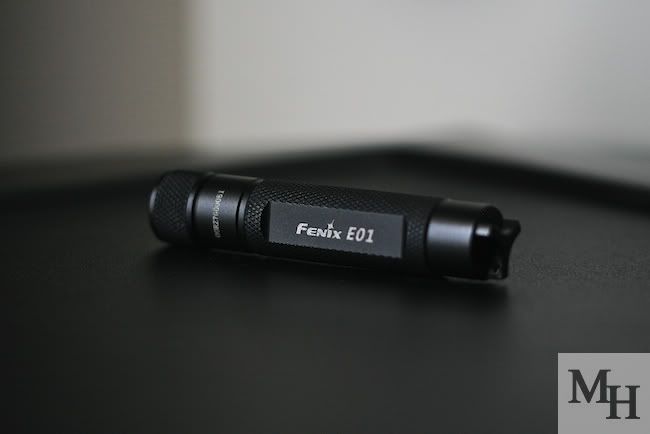 The Fenix E01 is a tiny, bright, and budget-minded AAA light. It's throw-against-the-wall durable, has one mode, and is cheap (around $10).

It features a prefocused Nichia LED—prefocused meaning that it doesn't have a traditional reflector, but rather a resin lens that the LED's built into that focuses light. As such, there is no polished reflector, just a rough aluminum one that does next to nothing. It has no lens, so if you keep it in your pocket lint will get into the head. No big deal, just something to know.




It throws a 10 lumen beam that's asymmetrical and of a purple hue. Runtime is listed as 10 hours at full strength, at which point the light drops output for a quasi-second level that is supposed to last an additional 10 hours.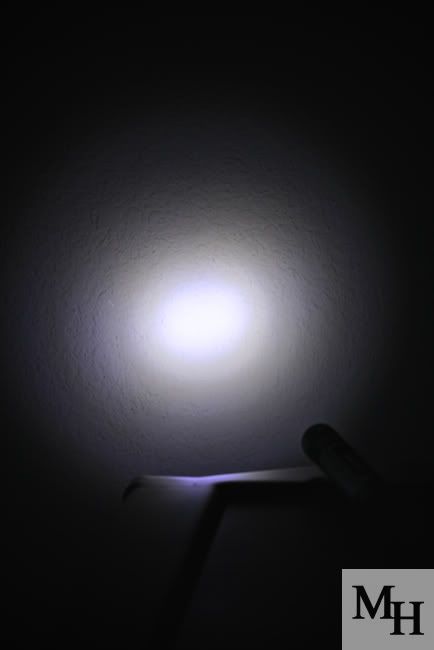 While not evident in the picture above, the E01's beam is a rounded-off rectangular shape with a distinct purple tingle in the middle. The shape is due to the LED having two dies right next to each other instead of the normal one die.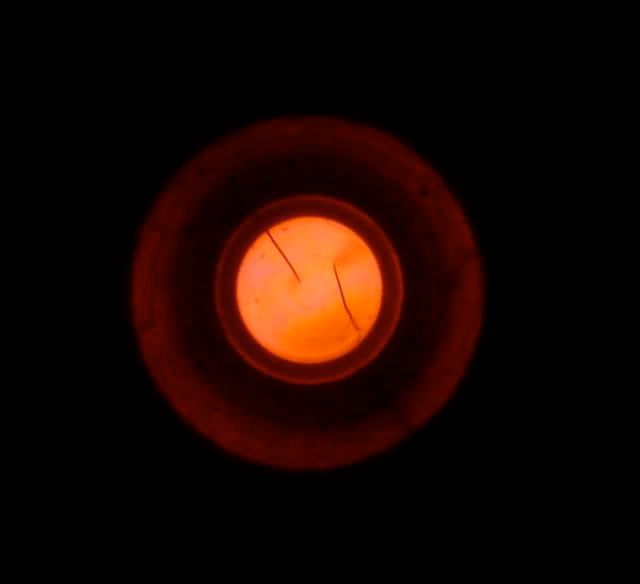 It's hard to see, but you can make out the two separate dies in the above picture.

The E01 is a flashlight that you can put on your keychain and not worry about it being knocked around. Both the external anodized aluminum body and the internal components were built right, being robust enough to survives the rigors of harsh day-to-day treatment.

One amazing thing about this light is its ability to seemingly resurrect dead batteries from the grave. Today I put a near-dead alkaline battery in my Maglite Solitaire (which I'll review in a later post) and ran it down to nothing. I gave it five minutes and stuck it in the Fenix (interesting coincidence of words...)

The E01 lit up, albeit in the reduced power mode, and ran long enough that I got bored of watching it die. It won the battle and I stuck its fully charged NiMH battery back in.

Speaking of rechargeable batteries, I wouldn't recommend the lithium-ion 10440 cells for use in this. I haven't tried it, but I doubt that the E01 would handle the increased voltage with flying colors; more like a tiny wisp of smoke...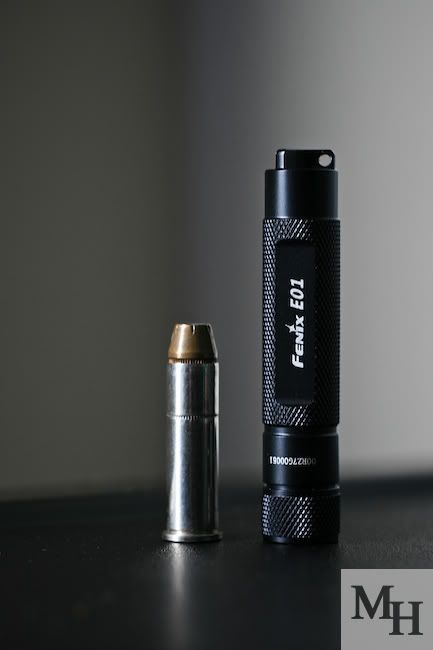 The E01 is small. Very small. Pictured above is the light next to a Federal .357 Magnum round.

When it comes down to it, this light's purpose is to be a tough, decently bright flashlight that'll be as happy sitting in a desk as it will be in a purse or on a key ring. Mine's never failed to light and has been extremely efficient.

I look forward to this year's SHOT Show to see what 4Sevens has in store. Rumor has it that they've developed a so-called "E01 Killer". It is a tall order to create a budget light that outshines this one (in more categories than one), but if anyone can do it 4Sevens can.

We shall wait and see...

Looking forward to posting more.
Article: Fenix E01 Review