0
Maxpedition Mini Pocket Organizer MINI-REVIEW
Background:
Red Dawn Hunting Survival & Recreation generously donated a mini-pocket organizer to BoomerShooter.com for a review and to donate as a prize to a member. If you have a backpack and need a small organizer to keep smaller items handy instead of flopping around loose inside your pack, the mini pocket organizer is the perfect solution. If you already have a Maxpedition pack then it is even better as I will describe below.
Initial Impression:
As with all Maxpedition gear, the quality is unsurpassed. The 1050-denier nylon is some of the heaviest on the market and will withstand years of "hard use", hence the Maxpedition slogan "Hard Use Gear". The nylon is also Teflon coated which will keep dirt and moisture away. Quality YKK zippers with paracord pull straps adorn all Maxpedition gear. Reinforced stitching is all covered with a nylon material to prevent fraying.
Features
: The Mini Pocket Organizer is small but packs a big punch. It is 4"x 6"x 0.75" in size. When unzipped fully it measures approximately 9"x 6". Inside there is a slip pocket on each half. There are 4 small elastic loops on the left side and two larger elastic loops underneath those. On the right side there are 3 small elastic loops over one larger loop. The left side also has a key chain hook to keep smaller items or and extra key on. On the front there is a small mesh pocket with a Velcro opening. This would be a good place for an ID card or something thin. It also has a Velcro patch for attaching your BomerShooter patch. On the back there is a carry handle and also three rows of MOLLE compatible straps. Maxpedition sells a set of TacTie™ attachment straps to securely attach this organizer to the outside of any of their other packs.
Daily Use
: You can put any number of items in this little organizer but I have pictured some suggestions of what I carried. Spare batteries and a small flashlight on the left side. Inside the slip pocket on the left I have some sanitizer hand wipes. On the key chain hook, I have a small pill bottle attached that holds allergy medication. On the right side I have a small folding knife, a mini-multi tool and a mechanical pencil. Inside the right slip pocket I have a 3" x 5" "Rite in the Rain" notepad. If you haven't tried one of these notepads, you owe it to yourself to get one and stick it in your daily carry pack. The mini-organizer is also small enough to slide in a pocket of a pair of cargo pants or shorts without adding a lot of bulk.
EDIT:
I added a picture at the bottom of one more possible use. A small .380 auto like this Kel-Tec will fit perfectly under the elastic strap and also have room for a spare magazine.
Overall Impression
: Quality! It might be small but you can put a lot of stuff in this organizer if you plan the essentials that you might need easy access to. The only fault I can find is that, unfortunately, it is not made in the USA.
Maxpedition makes three other sizes of the Pocket Organizer.
The Micro
: 3.5" x 5.5" x 1" deep.
The Fatty:
5" x 7" x 2" deep.
The EDC
: 5" x 7" x 0.75" deep
I give the Maxpedition Mini Pocket Organizer a rating of 4.25 hollowpoints (out of 5).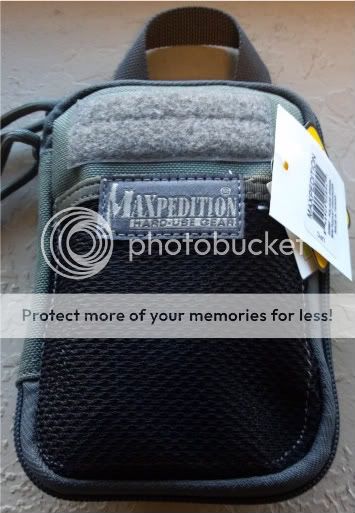 You can see all of the gear available from Maxpedition at
www.maxpedition.com
Article: Maxpedition Mini Pocket Organizer MINI-REVIEW