Hello, I was given the chance to test out Griffin Armaments new Tactical Compensator, and in return I had to do a review on it. So here it is!
First off I would like to thank Jesse for trusting me and giving me the opportunity to test the Griffin comp. I would also like to thank Griffin Armament, for the awesome design, great pricing, and especially the opportunity to test it!
Before I get into the review, I figure I can give some of my credentials, if that's what you want to call them! I'm a full time Police Officer and have been for approximately 5 years. My AR15 is my go to gun in SHTF situations, so I need the best, not for myself, but for civilians I'm sworn to protect. It rides shotgun with me at all times and is easily accessible. I have approximately 100 hrs of documented professional pistol and 50 hrs of documented professional rifle training. I shoot right around 1k a month by myself and try to stay as active as I can in the USPSA/Pro Am scene. I would like to think that I'm a decent shot and. I'm no veteran, master, or ATAS guy, but I shoot more then the average Joe and am very proficient with my weapons.
The rifle that I tested the Griffin comp on is my duty rifle. It is a hybrid AR15, mixed with a Noveske lower and LMT 16" carbine upper with a 1/7 twist. The previous hider on the rifle was a Micor Industries
http://www.brownells...stries-inc.html
. It was what came with the upper when I purchased it. The gun does not have much muzzle rise, but it was noticeable.
Now to the Griffin.
First glance:
It seems to be very well made. It looked much like and I'm sure designed closely to a Battlecomp. From other reviews I've read, it's stronger and heavier, but I can't tell you that for sure. I can't tell you what kind of finish it is, but it looks like it is parkerized. It matches very well with my LMT barrel, if that helps at all? Very heavy duty and seems like it'd work well in my line of work, rain, shine or snow.
Installation:
On a scale of 1-10, 1 being easiest, 10 being hardest, I would rate installation of this a 3. Only because you actually had to put some muscle into unscrewing your old flash/comp. It would probably be a 1 if I had the correct tools, but I didn't!
If you can screw in a light bulb, you can install this comp! I was the second person to test the comp, so the original peel washer was included, but used previously. I opted for a new crush washer (Thanks Matt!).
Fitment/Look:
It fit like it should. Nice and snug and it lines up perfect with a crush washer. It looks very good on the rifle and looks factory. It's not flashy like some comps on the market are.
Function:
I was very excited to run the rifle after installing the comp. I honestly did not expect much, as I don't think the 2.23/5.56 round has much muzzle rise/recoil. Let me be the first to tell you, first shot, I stopped and said, "Holy crap! It works!" My rifle stayed completely level, virtually(to me) no muzzle rise. The sight picture was exactly the same, nothing changed. Shot went where I wanted it to go and I could've put a round through the same hole again... VERY FAST. After the first shot, I let about 10 rounds go downrange as fast as I could possibly pull the trigger. SAME SIGHT PICTURE, NO MUZZLE RISE. I couldn't believe it. All I could do was smile
I was pleasantly surprised and excited! After dumping the mag, I did transition drills with 2 targets, 1, 2, 1. 1, 2, 1. 2 to the body, 1 to the head, etc. Then I did 3 target transitions and on to 4. I could easily track my rifle, get good fast sight pictures with very fast follow up shots. Much faster then before!
As far as recoil goes, the 2.23/5.56 round doesn't "kick" hard at all, but after installing the Griffin, I could feel... not a kick, but a rearward thrust, more then before. It is still very shooter friendly and would be very easy for a child or amateur shooter to handle.
Pros:
It freaking works and it's definitely cheaper then other comparable comps on the market. Nuff said! In my line of work, we all know that LEO are under paid, over worked. Every penny helps! I suggest using Boomer Shooter sponsor, Joe Bob Outfitters. Here is the link
http://www.joebobout...compensator.htm
. They will treat you right and get your products shipped out FAST!
Cons:
The one and ONLY con to the comp was the noise level. It was noticeably louder, especially on my left side. Before I could shoot my rifle with my Surefires, inner tube unplugged, I had to plug it to keep my ear from ringing. In an indoor environment, it will get VERY loud. My thought? It doesn't matter, because if I have to use it on duty, I'm not going to have ear plugs in, and I'm probably not going to hear it because I'll be so focused on the threat. That was the only thing I could find wrong with it. I dunno how it's going to do in a humid, wet environment, but I figure it's going to be much like an AR15 rifle barrel, it probably won't affect it much.
My overall thought is that it's a GREAT buy and again, IT FREAKING WORKS! I will get videos posted soon, hopefully tomorrow, if not, sometime next week. For the meanwhile, here are pics I took of it after I shot it today.
I hope the review helped with any decision making. Good luck to Griffin and thank you!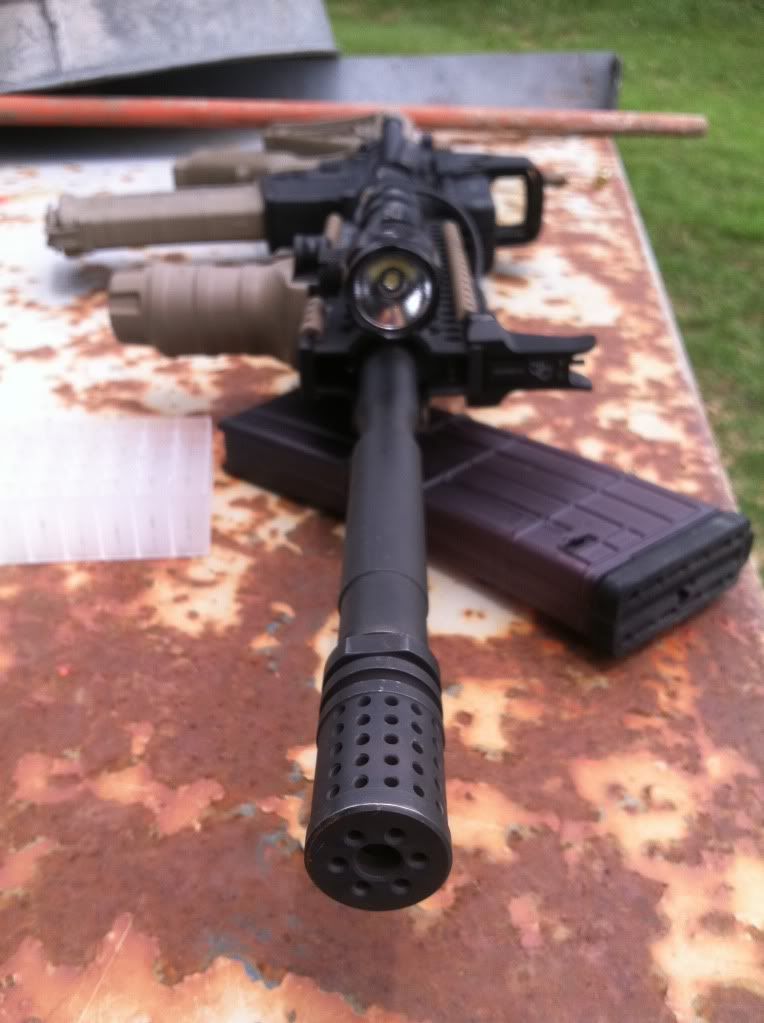 More pics to come.....